Fresh Mediterranean on Heritage Trace Parkway in Fort Worth, Texas
03. 17. 2022
COMPANY OF THE YEAR opens its first location in Fort Worth and offers once in lifetime opportunity for local DFW woman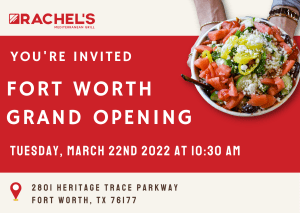 [Fort Worth, TX. March 22, 2022]. Rachel's Mediterranean Grill, a NY-based Mediterranean chain, is pleased to announce the grand opening of its newest location in Fort Worth, Texas. The public is invited to celebrate the occasion on-site at 2801 Heritage Trace Parkway in Fort Worth, TX. The event will begin at 10:30 AM with a ribbon-cutting ceremony hosted by the Fort Worth Chamber of Commerce. The day will feature great music, fresh food, and a special appearance by Sybil from 98.7 KLUV. The first 300 customers will also receive goodie bags filled with t-shirts, water bottles, and special offers.
Rachel's, which was once a neighborhood cafe and deli in Buffalo, NY, was founded by the Khoury family in 2006, naming it after their youngest sister to represent the business' growth as she grows up. Brothers, Joe, and G Khoury found that after working for their families' business for years, a faster, more convenient service was necessary for the food they served. In 2012, Joe and G expanded beyond their family-owned restaurant, opening Rachel's Grill, a healthy, fast-casual spot spread across 13 locations across Western New York. Fort Worth will be its 14th location.
"We're a family-owned and -operated company, so that influences our decisions on a day-to-day basis," said Brandon Guzda, Director of Operations. "My sister, Courtney Guzda, worked at Rachel's for over six years before moving to Fort Worth. She grew homesick for Rachel's and the community in Buffalo where she grew up, so she suggested we open a location there, and she would manage it." "It was an opportunity we couldn't pass up," Brandon said. The Fort Worth community will now be able to enjoy the same family-owned and operated culture we've been so proud of throughout our history."
About Rachel's Mediterranean Grill: Our mission is to promote a healthy, balanced lifestyle without sacrificing the taste of delicious food. We combine the authentic flavors of our Mediterranean dishes from old family recipes with a modern, fast-casual twist so you can enjoy eating healthy as easy as possible. With our customizable menu and open kitchen setting, you can build your own salad bowls, rice bowls, and pita wraps with endless options of fresh ingredients to choose from. Everything is cooked to order and prepared fresh, so you can enjoy a meal that is balanced, healthy, and full of flavor. We look forward to serving the Fort Worth community.
GRAND OPENING:
Rachels Mediterranean Grill
2801 Heritage Trace Parkway
Fort Worth TX 76177
Tuesday, March 22nd 2022 at 10:30 AM